Productive Farms Healthy Streams

Productive Farms & Healthy Streams Workshop

Posted 44 days ago

The Berks County Conservation District is partnering with Stroud Water Research Center to offer a free workshop with lunch!
FEATURING:
Dr. Bernard Sweeney, Stroud Water Research Center
Berks and Lebanon County Conservation Districts
USDA-Natural…

Schuylkill Acts & Impacts

BCCD Partners with Schuylkill Headwaters Asso…

Posted 44 days ago

BCCD is pleased to be aiding a long-time Schuylkill Watershed Partner, the Schuylkill Headwaters Association, in its first year of offering the Schuylkill Acts and Impacts student learning program.

Schuylkill Acts…

Farming in 2014 Workshop

Thank you!

Posted 62 days ago

The Berks County Conservation District's Innovative Agriculture Workshop was a success! Thank you to everyone who attended and we were very lucky to have knowledgeable and helpful presenters who shared…

Tree Seedling Sale

Tree Seedling Sale

Posted 106 days ago

Our Annual Tree Seedling Sale Brochure is Here!   Click Here to learn more and to view the Brochure! 

Although the deadline to pre-order your tree seedlings has passed, there will…

We are on Facebook!

We are on Facebook

Posted 314 days ago

Follow us on Facebook to keep up on all the latest news about soil and water conservation.  See the latest videos about farm conservation, education events near you, and events…
Previous
Next
The Berks County Conservation District is partnering with Stroud Water Research Center to offer a free workshop with lunch!
FEATURING:
Dr. Bernard Sweeney, Stroud Water Research Center
Berks and Lebanon County Conservation Districts
USDA-Natural Resources Conservation Service
Jerry Martin, Penn State Nutrient Management Education Program
TOPICS INCLUDE:
How Farmers are Producing Clean Water, Healthy Streams, and $$$
USDA Programs & Stroud's Farm Stewardship Program
How the Conservation District Can Help You & Your Farm (Shartlesville)
Solutions for Pasture "Bare Spots" – Fixing animal heavy use areas
DATE & LOCATION:
March 31 – 10:30 am to 1:30 pm at Blue Mountain Family Restaurant, 24 Roadside Drive, Shartlesville, PA
Free lunch is provided. If possible, please rsvp at least three days before the meeting you wish to attend by calling 717-454-4175 & leaving a voice mail with the number in your group. Walk-ins are welcome.
Partners include: Berks Conservancy, Berks County Conservation District, Lebanon County Conservation District, Penn State Extension, PennAg Industries, Red Barn Consulting, Inc., Schuylkill Action Network, Stroud Water Research Center, TeamAg, Inc., USDA-NRCS
BCCD is pleased to be aiding a long-time Schuylkill Watershed Partner, the Schuylkill Headwaters Association, in its first year of offering the Schuylkill Acts and Impacts student learning program.
Schuylkill Acts & Impacts is a weeklong service-learning program that will be offered to a team of ten high school students from communities within the Schuylkill River Watershed.
This expedition will involve a physical journey (by boat and van) along the 120-mile Schuylkill River from its headwaters in the of Schuylkill County to its confluence with the Delaware River in Philadelphia. Team leaders will guide students downriver, illustrating an array of issues impacting water quality in the Schuylkill River through guided tours, programming, and applied service work designed to highlight issues in the watershed and offer hands-on solutions to these problems.  The BCCD will highlight the various ways our land uses have impacted the Schuylkill Watershed in Berks County.
Schuylkill Acts & Impacts will take place from Saturday, June 7 to Saturday, June 14, 2014.   If you know of a Berks County high school student that would be interested in applying for this opportunity, please view the application here.   If you would like to learn more or have questions about this program please visit www.schuylkillheadwaters.org or contact
Sierra Gladfelter,
Schuylkill Headwaters Association
Outreach and Education Coordinator
outreach@schuylkillheadwaters.org
570.573.2093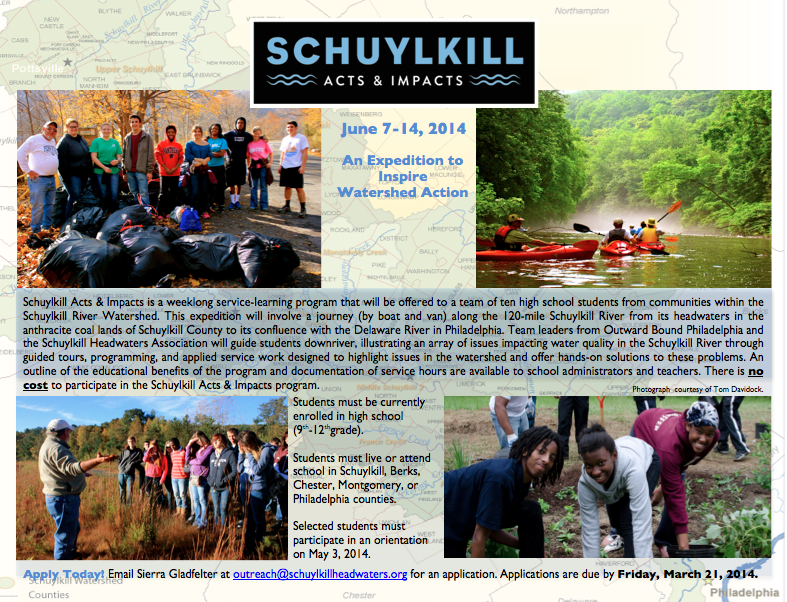 Image Source: www.schuylkillheadwaters.org
The Berks County Conservation District's Innovative Agriculture Workshop was a success! Thank you to everyone who attended and we were very lucky to have knowledgeable and helpful presenters who shared their expertise.   Lastly, thank you to our sponsors and food donors who made the event possible!
Sponsors:
Deer Country Farm and Lawn Inc.
Hy-Tech Mushroom Compost, Inc.
Red Barn Consulting, Inc.
Independent Ag Equipment
Food Donors:
Mike Firestine from Fulton Bank
Boyers Market and Catering
Dieffenbach's Potato Chips
Way-Har Farms
Clover Farms
Redner's Warehouse Markets
Unique Pretzels
Our Annual Tree Seedling Sale Brochure is Here!   Click Here to learn more and to view the Brochure! 
Although the deadline to pre-order your tree seedlings has passed, there will be tree seedlings available during the sale to purchase! (offered on a first-come-first-served basis)
Thank you to Chuck's Auto Salvage and Home Depot, Wyomissing for sponsoring this fundraiser and making it possible!
On September 28th and October 5th, the Berks County Conservation District and the Kutztown High School chapter of FFA teamed up with the Berks Conservancy to plant trees along an unnamed tributary of Mill Creek in Krumsville.  The planting was to establish a riparian buffer along the stream.  Riparian buffers are important for maintaining and protecting water quality by naturally trapping sediment, reducing nutrient loads, and keeping temperatures cool.  Click through to see more pictures
Follow us on Facebook to keep up on all the latest news about soil and water conservation.  See the latest videos about farm conservation, education events near you, and events held by the Conservation District.  You can check out the page by clicking the My Page button above, once there follow us using the like button to keep getting updates about the district.
We also are unveiling our West Nile Virus Facebook page.  Given last years mosquito season, you may want to be kept up to date on all the latest news about our West Nile Virus vector program.  You can also learn about the transmission cycle of West Nile Virus and prevention measures to reduce mosquito populations.
BCCD West Nile Virus Facebook Page
The Pennsylvania Association of Conservation Districts, Inc. (PACD) has  released "Conservation Districts Sustain Agriculture: A Farmer's Story." The two-and-a-half minute video highlights the types of work districts do to support the state's residents and the economy.
"This video, while short in length, is long in reach and explains how the districts help sustain the state's number one industry: agriculture," said PACD Executive Director Robert Maiden. "Many times, the conservation districts assist farmers with their nutrient management plans and installation of best management practices (BMPs) so they can stay productive. Agriculture feeds families."
PACD is asking the legislature provide funding through the state's general fund to support the districts' work in 66 Pennsylvania counties.
"Conservation Districts Sustain Agriculture: A Farmer's Story"
The Water Resources Education Network (WREN) recently completed a three minute video designed to educate and encourage residents to become proactive and ask community leaders and water systems across Pennsylvania to put common sense protection measures in place to enhance the safety, reliability and sustainability of local water supply sources. Developed with assistance from GreenTreks Network Inc. and suitable for all audiences, watch the three minute video and please share.
Lancaster County Conservation District, in association with the National Fish and Wildlife Foundation, has produced an informational booklet about soil erosion and water encroachment.  The programs that districts use to regulate these activities are often called Chapter 102 and Chapter 105.  Click here to see the full booklet and what exactly conservation districts do in regards to erosion and water encroachment.